Mushroom Caps Stuffed With Smoked Salmon
Erin L.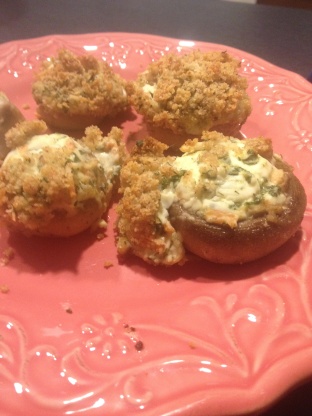 We smoke our own salmon, so I am always looking for something different to do with it. I often make mushroom caps stuffed with a crab mixture, so I thought, "Why not smoked salmon?" I think they go well together, and those who have eaten them really enjoy them.

Simple, easy, and tasty! What more could you want? It's nice to find a recipe for my home-smoked salmon that doesn't involve an omelette!
Clean mushrooms by wiping (do not wash.).
Take stems out of mushrooms and save for another purpose.
Combine cream cheese, mayonnaise, smoked salmon, dill, lemon juice,margarine, 1 tablespoons butter, and parsley. Mix well.
Brush insides and outsides of mushrooms with olive oil.
Stuff mushrooms with cream cheese mixture, mounding it up a little.
Mix the breadcrumbs, parmesan cheese and melted margarine and sprinkle over the mushrooms.
Bake at 375 degrees for 15 to 20 minutes.
The bread crumbs should be golden brown.
Take care when eating. They will be very hot and there will be some very hot liquid in the mushroom.