Bergy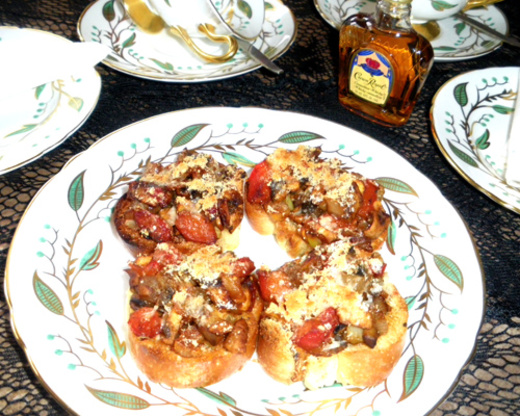 This recipe comes from "Recipes from the Farm" brochure I picked up at Whole Foods Market. The recipe was given by Organic Mechanics Farm in Red Lion, Pennsylvania. I havent tried it looks different than most bruschettas and worth a try.

Top Review by Bergy
What a neat change from the usual tomato Bruschetta - We loved it. I used a chipotle sauce instead of straight tomato sauce (love spice). You didn't say to broil for a minute after adding the parmesan but I did to get it nice and warm before serving Enjoyed by all
preheat oven to 350 degrees.
slice bread on bias into 1 inch slices.
brush with olive oil.
sprinkle with basil or oregeno if using.
bake for 7 minutes or until golden.
. in a large saute pan, saute onions in oil until caramelized; about 20 minute.
add garlic and saute until translucent.
add mushrooms and cook for 3-5 minutes.
finish with roasted red peppers, red wine, tomato sauce, salt and pepper to taste.
spoon mixture onto bread and garnish with parmesean cheese.