Mushroom & Broccoli Omelet
Bergy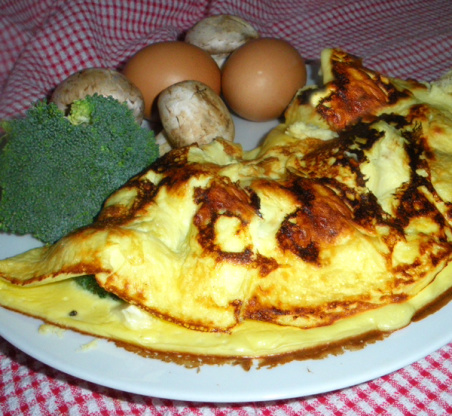 This makes a nice breakfast or brunch without meat. Recipe is from Family Circle.
4

eggs

8

egg whites

2

tablespoons half-and-half
1⁄2 teaspoon salt
1⁄2 teaspoon black pepper
nutmeg, pinch

1

teaspoon vegetable oil

1

cup mushroom, chopped

1

cup frozen chopped broccoli, thawed

1

(3 1/2 ounce) packagecrumbled reduced-fat feta cheese

4

cups salad greens

3

tablespoons reduced-fat red wine vinaigrette
Whisk together eggs, egg whites, half-and-half, 1/4 t each of the salt and pepper; and nutmeg; set aside.
Heat oil in 10-inch skillet over medium-high heat.
Add mushrooms to pan; sprinkle with remaining 1/4 t each of salt and pepper.
Cook 2 minutes.
Stir in broccoli; cook 2 minutes.
Scrape mushroom mixture into a bowl; set aside.
Place skillet back over medium heat; coat generously with nonstick cooking spray.
When pan is hot, pour in 2/3 cup of the egg mixture.
Sprinkle 1/4 cup of the mushroom mixture and a quarter of the feta down left side of the egg mixture.
Cook for 2 minutes.
Using a rubber spatula, fold right side of egg over mushroom and cheese.
Cook 1 minute.
Carefully slide onto plate; keep warm.
Repeat procedure for remaining 3 omelets.
Mix salad greens with vinaigrette.
Serve alongside omelets.