Annacia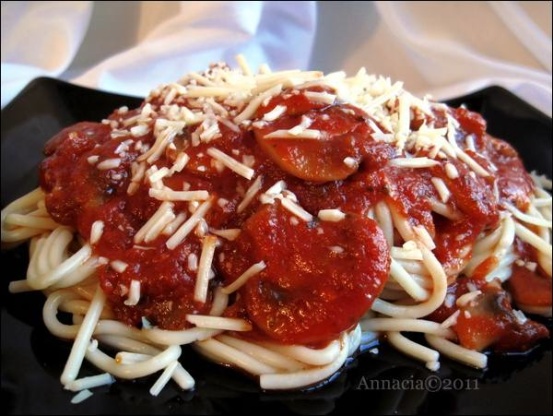 A recipe from the blog The Italian Dish. ETA : I made it this week (august 2011) and I can tell it was not my favorite. I would have like some ground beef in it. DH liked it more than me but not is favorite also.

We love mushrooms so this really appealed to us. I cooked it in the crock pot for around 7 hours with great results. Loved the mix of flavors from the ingredients. We had it over whole wheat pasta to make it more healthy and we feasted with smiles on our faces!
Soak the dried porcini mushrooms in 1 cup of very warm water and let sit for 20 minutes. Strain through a cheesecloth or a coffee filter and keep the liquid. Do not use a metal mesh strainer for this step - it is not fine enough. Chop the mushrooms.
Saute the onion, carrot and celery in a large pot in the olive oil with a big pinch of kosher or sea salt and a few grindings of pepper. Let the vegetables cook for about 8 minutes, on low heat. Add the garlic and cook for one minute. Increase heat and add the wine. Cook for 5 minutes, making sure the wine is simmering. Add the mushrooms.
Add the rest of the ingredients, including the reserved porcini mushroom liquid. Simmer, uncovered, for about an hour to an hour and a half, until the sauce has reduced down and a lot of the liquid has cooked off - cook until you like the thickness of the sauce. Taste for salt and adjust seasoning.
This recipe will be more than enough to coat a pound of pasta. If you don't use all the sauce, it's great the next day or you can freeze it.