VickyJ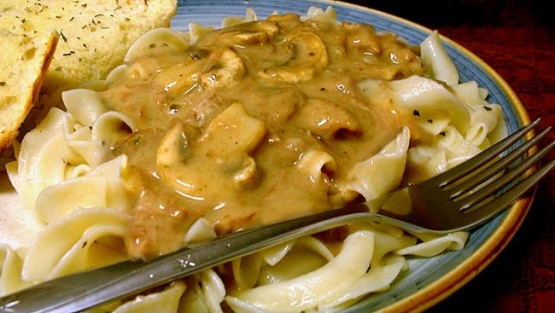 From 2001 Taste of Home Annual Recipe cookbook. I haven't tried this yet, but recipe calls for 2 cups of sour cream - I'll probably decrease the amount to 1 or 1 1/2 cups when I make it. I'm guessing at the prep times.

I'm sorry, but this recipe just didn't work for me??!? I used 1 can of mushrooms rather than fresh and light sour cream. I added about 1.5 cups of sour cream and it tasted wayyy to strong, all I could taste was sour cream.... maybe I didn't add enough mushrooms? Thanks for the recipe though! I try it again with some changes:)
In a large skillet, heat butter and oil over medium-high heat. Brown steak; remove with a slotted spoon and keep warm.
Add mushrooms; saute until tender.
Return steak to pan.
Add soup, sour cream, onions, thyme and marjoram; heat gently (do not boil).
Serve over noodles or rice.