Fiddler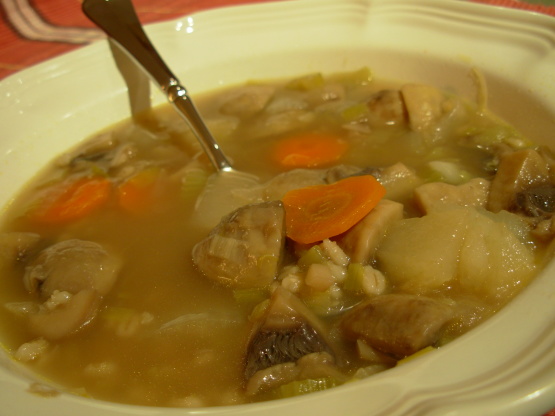 a hearty comforting soup for those cold blustery days.

This soup was delicious. i only made a couple changes. I used one can of beef broth, one can of chicken broth and 2 cans of vegetable broth. I also used salted butter since thats what i had on hand. I sliced some shitake and baby portebellos too to add to the mix, they were a delicious addition. I am giving it 5 stars and would give it more if i could because it was my 11 and 7 year old that ate ALL of the soup! I had a bowl before i napped before my 3rd shift job, and when i awoke, looking forward to bringing a bowl to work with me, it was GONE!! DH told me that they each had 2 helpings for dinner, and the kids begged for more later till they finished it! Needless to say, im on my way to the store after writing this review, to get some more mushrooms to make a double recipe for tonights dinner :) oh, let me add that i also left out the potato
1 -1 1⁄2 lb mushroom (white button, baby portobella, or mixture of both)
1⁄4 cup butter (prefer unsalted)

1

medium onion, chopped

1

leek, white and pale green parts only, chopped

8

cups chicken broth

1

medium white potato, peeled, diced small
1⁄2 cup chopped celery (use the top leaves too)

1

teaspoon minced garlic

1

large carrot, peeled and thinly sliced
1⁄2 cup pearl barley
salt and pepper
remove stems from mushrooms.
slice caps and set aside.
chop stems.
melt butter in heavy large soup pot over medium heat.
do not let butter brown.
add onion, leek, carrrots, celery, and garlic.
saute until tender, about 8 minutes, stirring constantly.
add mushrooms, cook 2 minutes.
add chicken stock, barley, potato, and bay leaves.
bring to boil over high heat, reduce to low heat, cover and simmer about 35 minutes.
season to taste with salt and pepper.
remove bay leaves and discard.