Pneuma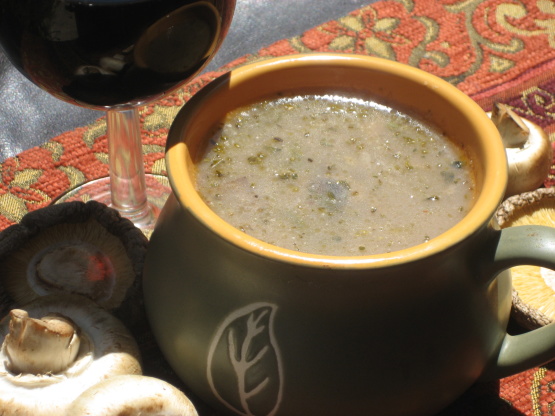 We ordered out soup the other day and it was mushroom barley soup - I got 2 slices of mushrooms - my co-worker and I stood there - whats this - and there where peas in my soups whats up with that - well I made my mushroom barley soup and we all enjoyed some true comfort soup - I was going to take a photo - but it was gone before I could - enjoy

Top Review by Pneuma
Delicious mushroom fiesta galore soup! It's different from the usual milky cream of mushroom soup but nevertheless it never said it's supposed to be creamy and it's also a barley soup. I didn't have porcini so I just doubled the shitake and added more button mushrooms. It can be an appetizer and at the same time, it can also be a meal on its own since it already has barley in it which is filling. I love the blend of flavors with the shitake and red wine being more prominent and of course, as suggested, served it with red wine. Thanks for sharing this healthy and tasty dish, V! Made for Veggie Swap.
Chunk chop your fresh button mushrooms.
In a food processor place your dried mushrooms and pulse until you acquire a small chop look - make sure to sweep up all the powder that has come up the sides of the processor - place in a bowl cover with 2 cups boiling water allow 30 minutes for mushrooms to absorb water. Cover bowl with plastic wrap and place a small plate on top to push down the mushrooms.
In a medium pot add 1 tbsp extra virgin olive oil - come to medium high heat - add onions, garlic, celery, carrot and sweat for 5 to 10 minutes add button mushrooms and brown slightly.
Add your soaking mushrooms, water and all. Add barley cover with vegetable stock, add bay leaf and thyme. Cover and cook over low heat for 1 hours Check for fluid levels - if it appears you need more fluids add a cup of water. Season with salt and pepper to your taste (I use kosher salt and 1 tsp fresh ground pepper).
Stir occasionally and add wine cook for 10 minutes after adding wine. Serve with a nice side salad - thick slice of bread and a glass of the red wine -- Enjoy.