karen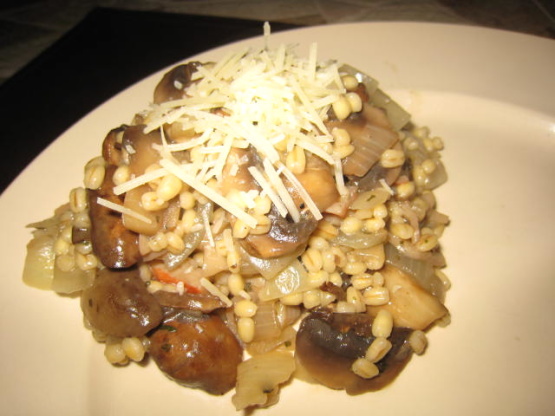 I found this on a package of fresh baby bella mushrooms, originally from Bob Greene's "The Best Life Diet." I have not tried this, but it looks yummy and healthy!

Top Review by karen
Great recipe. Easy to make, though it does take about 45 minutes of active cooking...but most of the time is just occasionally stirring and adding another 1/2 cup of broth. So you can be doing other things while this cooks. I followed the recipe exactly using 1/2 button mushrooms and 1/2 portabella and a combination of homemade veggie stock and instant chicken stock. I also added about 1 cup of imitation crab that needed to get used up (I added it to the mushrooms for the saute step) and then added the juice from the mushroom saute to the barely. The steps didn't tell you what to do with the basil. I'm thinking it might have been for a garnish, but I went ahead and stirred it in at the end (used dried due to time of year). Made for My 3 Chefs.
In a saucepan, bring the broth to a boil. Cover and turn off the heat.
Heat 1 tablespoon of olive oil in a deep skillet over medium heat. Add onion and saute until soft. Reduce heat to low.
Add barley and stir to coat with oil. Add wine and cook, stirring, until wine is absorbed.
Add hot broth, 1/2 cup at a time, stirring frequently and adding more as broth absorbs. (This should take about 30 minutes. You may have broth left over, or you may need to add more to get barley to desired consistency.)
Put remaining olive oil in a skillet over medium heat. Add mushrooms and shallots and saute until mushrooms are golden and shallots are soft.
Stir mushroom mixture and basil into barley, season with salt and pepper, and sprinkle with Parmesan cheese.