Mushroom Barley Kielbasa Soup
Bayhill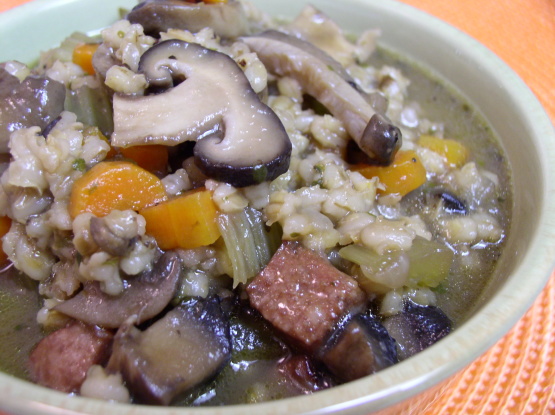 If you like mushrooms, this is the soup for you. The keilbasa adds an extra richness to the flavor. I imagine it would also be a good one in a crock pot for the day while your busy doing other things. YUMMY, so good on a cold day!
Delicious! The mushroom lovers in my family (myself included) loved this soup. I used 2 very large portabello mushrooms, 8 oz. white mushrooms, and 4 oz. shitake mushrooms. Also, I increased the carrots and celery to 1-1/2 cups each and used both a bay leaf and the dried basil. The directions called for parsley but, there wasn't any parsley listed in the ingredients. I used 1/2 cup chopped fresh parsley and it worked out fine. Thank you for sharing this delicious, hardy soup! I made this for PAC 2007.
1419.54

ml beef broth or 1419.54 ml chicken broth

236.59

ml water

1

large onion, chopped

2-4

fresh portabella mushrooms, cubed

226.79

g containersliced button mushrooms (Porcini, package size is a guess, it's just the regular size of pre-sliced you find at the store)

113.39

g package mushrooms, of choice (Shitaake, Oyster, Morel, etc.)

29.58

ml olive oil

1

carrot, diced (optional)

236.59

ml celery, sliced

236.59

ml barley

226.79

g kielbasa or 226.79 g Polish sausage, cut into chunks

1

bay leaves or 1.23 ml dried basil
salt & freshly ground black pepper, to taste
Heat the olive oil in the bottom of a deep pot.
Add the onion and sauté until almost transparent.
Add the celery [and carrot if used] and sauté until limp and throw in the keilbasa or sausage.
Let the flavors blend.
Add the chicken or beef broth and bring it to a boil.
Add all of the mushroom, the barley, parsley, bay leaf, salt and black pepper.
Return to a boil.
Lower the flame and simmer for 45 minutes or until barley is tender.