Mushroom and Wine Steak Sauce
Boomette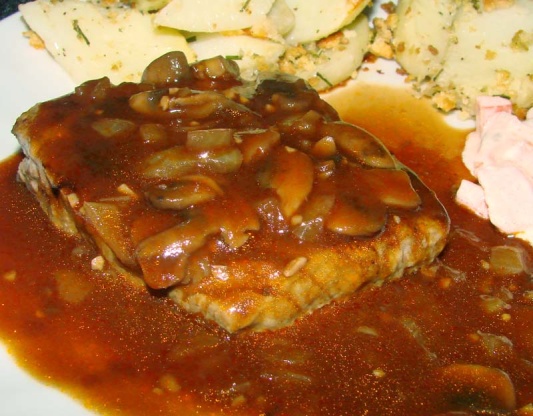 I've used this on steak, venison, elk, and hamburgers. Love it. I sometimes add more mushrooms.

This sauce was easy and delicious!!!! The only thing I did different was cooked it down rather than using the cornstarch to thicken. I did this before cookin the steaks on the grill, then when the steaks were done, I started to reheat the sauce. As it came to a boil, I threw in 1TB butter and wisked it into the sauce!!! The wife loved it and so did I. We will definitley be having this sauce with steaks again!!!
Melt butter in a saucepan.
Add mushrooms, onion and garlic.
Saute until golden, about 5 minutes.
Stir in broth, tomato paste and black pepper.
Bring to the boiling point.
Reduce heat and simmer, covered, for 10 minutes.
Blend cornstarch with water.
Mix some of the hot mushroom sauce into cornstarch mixture and return to saucepan.
Cook and stir until clear and thickened.
Stir in wine and cook until hot.
Serve over steak, hamburgers or other meat.