Mushroom and Swiss Chard Lasagna
PamC6283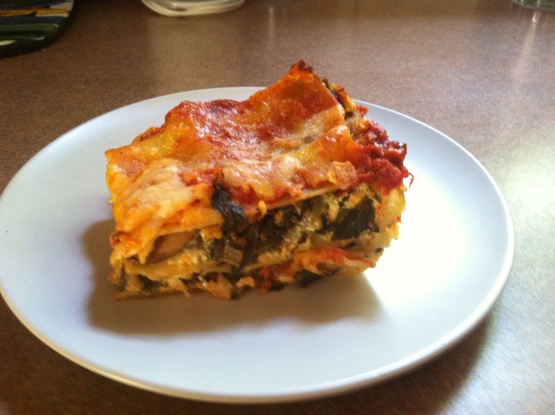 Boxes of oven-ready lasagna may contain 12 or 16 noodles. For 12 noodles use 3 per layer, for 16 use 4. If Swiss Chard is unavailable, use a 16 oz. pkg of frozen spinach.

So good! Hubby liked it so much. I made a few changes. I used boiled lasagna noodles (and not the no-cook). I cooked the mushrooms (sliced) and I added the chard when the mushrooms had cooked, and let them wilt. I made my own sauce. I used mixed cheese (Italian style) instead of mozzarela.
A definite make again!
Bring large pot of water to a boil. Remove stems from the Swiss chard leaves; cut stems into 1/2" lengths. Cut leaves into 1" strips. Add stems to boiling water, cover and cook 3 minutes. Add leaves, cover and cook another 3-4 minutes, until tender. Drain ad rinse under cool water; press out excess moisture.
Heat oil in nonstick skillet over med-high heat. Add mushrooms, cook stirring occasionally, 3-5 minutes, until browned. Add garlic and crushed red pepper; cook, stirring about 10 seconds. Transfer to a bowl and stir in Swiss chard and 2 cups marinara sauce. Season with salt and pepper.
Whisk together egg, ricotta, 1/3 cup Parmesan, salt and pepper in a bowl. Put 3-4 lasagna noodles in large bowl and cover with warm water; let soak.
Preheat oven to 400°F.
Spread about 1/2 cup marinara sauce in 9x13 baking dish coated with cooking spray. Place 3-4 dry noodles over sauce. Cover with 2/3 cup ricotta mixture. Top with 1 1/2 cups Swiss chard mixture. Sprinkle with 1/2 cup mozzarella. Repeat layering two times.
Lift soaked noodles from water, pat dry and arrange on top, cover with remaining marinara sauce. Tightly cover pan with foil.
Bake 35 minutes and uncover. Sprinkle with remaining Parmesan cheese and mozzarella. Bake uncovered, until noodles are tender, about 15 minutes.
Let stand 5 minutes before serving.
NOTE: Lasagna can be prepared ahead to step 7 and refrigerated up to 2 days.