Mushroom and Spinach Stuffed Zucchini
2Bleu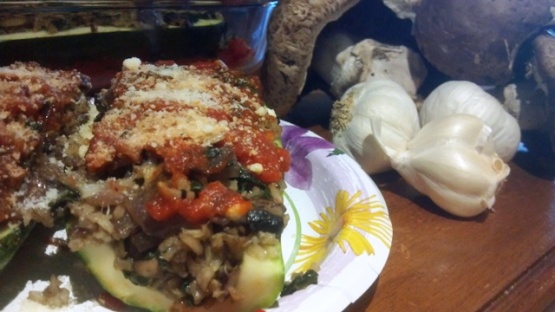 Rich and savory with portabella mushrooms and spinach, combined with rice, sherry,olive oil,and dill, this makes a dramatic filling for zucchini boats. Another winner from the Moosewood Restaurant Low-Fat Favorites Cookbook.

Very good! I used Spicy Hot V8, and I substituted bread crumbs with parmesan for the rice (didn't want to wait for it to cook). I grated asiago over it instead of the fontina- delicious! Will definitely make again, thanks!
Slice the zucchini in half lengthwise and, using a small spoon, scoop out the insides of the zucchini to leave a fillable shell.
Set aside.
In a skillet, saute the onions, garlic, and salt in the oil on low heat, stirring often, until the onions soften.
Add the mushrooms, dill, sherry, and soy sauce and cook for about 5 minutes more.
When the mushrooms are just tender, remove from the heat and set aside.
Preheat the oven to 350*F.
While the mushrooms are cooking, rinse and stem the spinach.
In a saucepan, steam the spinach leaves in enough water to cover until wilted but still bright green.
Drain and add it to the sauteed vegetables.
Stir in the rice and add salt and pepper to taste.
Pour the tomato juice evenly around the bottom of an unoiled 8x12" glass or nonreactive baking dish.
Press and mound 1/6 of the filling into each zucchini shell and arrange them in the baking dish.
Sprinkle on the grated cheese, cover the pan tightly with foil, and bake for about 30 minutes, until the zucchini are tender and easily pierced with a fork.
Uncover and bake for another 5 to 10 minutes, until the tops are browned.