Mushroom and Shredded Chicken Salad
ImPat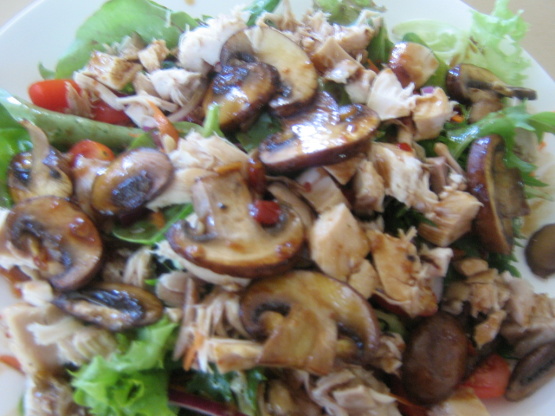 A quick to prepare Asian-influenced salad which could be served as a main course or a side dish, from 'tossed: 200 fast, fresh and fabulous salads'. If any of your mushrooms are particularly large, quarter them or chop them to an appropriate size. Ideal for making on a busy week-night with a takeaway - or take out - roasted chicken. BTW, 7 oz = 200g; 14 oz = 400g. The lime and soy dressing could be made in advance.

Excellent! Even my husband - Mr. Ranch dressing and croutons loved it and said he'd gladly have it again. Used chili sauce (didn't have the sweet) and added green onions and slivered almonds. Thanks!
Heat one tablespoon of oil in a pan, add the mushrooms and cook over a medium heat for 2-3 minutes, or until the mushrooms have softened; toss the mushrooms in a large bowl with the shredded chicken.
Combine all the lime and soy dressing ingredients in a small jug or bowl, mix well and pour two-thirds of the dressing over the warm mushrooms.
Arrange the salad leaves in a serving dish and toss through the remaining dressing; top with the chicken and mushrooms and serve warm.