Mushroom and Barley Soup (Crock Pot)
jenne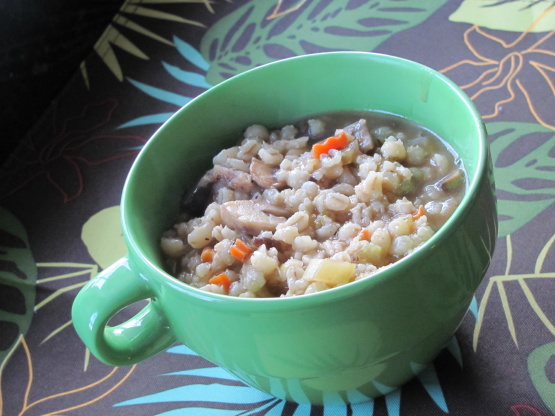 We really enjoyed this simple soup. Recipe source: Fresh from the Vegetarian Slow Cooker.

Top Review by Nikoma
Made exactly as written and am sorry to say I found this exceedingly bland. It is very filling, something different, and cheap to make, but I couldn't make it again. I was going to give it 2 stars but Fiance actually said it was OK. I found I needed a lot of salt and wished for some lemon! Lemon and thyme always compliment each other. If I were to do it again I think I'd use all fresh mushrooms. Wasn't crazy about the dried shitaki in it.
Place the dried mushrooms in a heatproof measuring cup and cover with hot water. Let sit until softened. Drain, reserving 1/2 cup of the liquid. Slice mushrooms. Set aside.
In a small skillet heat oil over medium heat. Add onion, carrot and celery and cook until softened (5 minutes).
Transfer vegetables to crock pot and add barley, both kinds of mushrooms, broth, reserved mushroom soaking liquid, thyme and salt and pepper. Cover and cook on low for 6 hours.
Serve garnished with chives.