JustJanS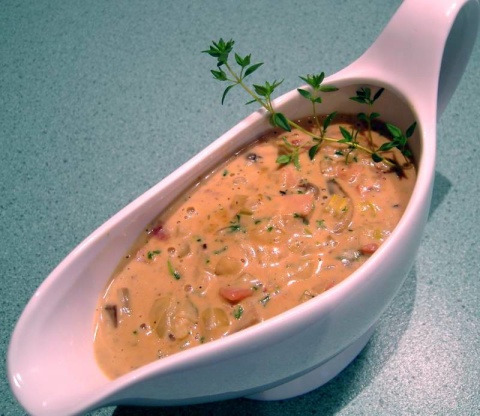 We make a lot of these sorts of sauces to go over steak and chicken breasts. I just haven't written them down before now. This amount of sauce could probably serve 4 normal people, but we are piggies and it's enough for the two of us. We sort of think of it as another side dish;-)
Heat the oil in a pan over medium heat, add the onion, garlic, bacon and mushrooms, and cook until the onion is well softened-about 8 minutes.
Add the sherry, and allow it to reduce a little.
Add the lemon juice, paste, stock powder, and cream.
Cook for about 5 minutes more or until reduced to a nice sauce consistency.
Season to taste with pepper and stir through the herbs.
Serve over steak or chicken breast.