Musakhan (Baked Chicken over Bread)
sarsalam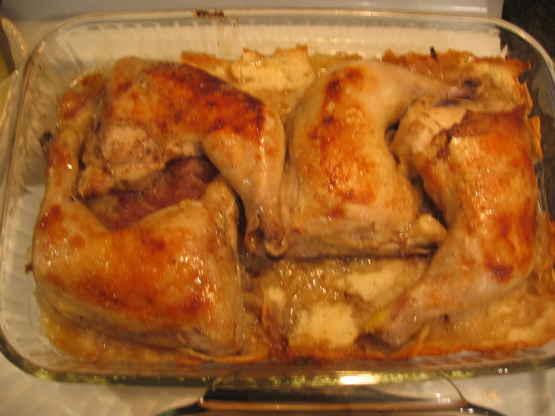 This is another delicious recipe by Paula Wolfert.

I made this recipe from a website about three months ago and it's the best chicken dish I have ever made hands down. I'll be making it again soon and will post pictures! My friends loved the way the bread tastes with all the seasoning. I don't use chicken quarters, but rather leg quarters.
Rinse the chicken pieces and pat dry. Trim off excess fat.
Combine the spices for the marinade. Set aside 2 teaspoons and mix the rest with the lemon juice. Rub into the chicken and marinate in the refrigerator for up to 1 day.
Preheat the oven to 400 degrees. Set the chicken out of the fridge & let it come to room temperature.
Place the onions in a large skillet along with 1 1/2 tablespoons of the olive oil, 1/4 cup of chicken stock, reserved spices. Cover and cook on low for 20 minutes.
Place the chicken, upside down, on a nonstick baking pan. Spread the onions over the chicken; cover with foil and bake 30 minutes.
Lightly brush a large ovenproof dish with the remaining oil. Scatter the torn bread along the bottom. Sprinkle the remaining chicken stock over the bread.
Carefully flip the chicken & onion onto the bread so that it is right side up. Return to the oven and bake 20 minutes,uncovered, until tender and the skin is crispy brown. Top with the pine nuts, if using.