2Bleu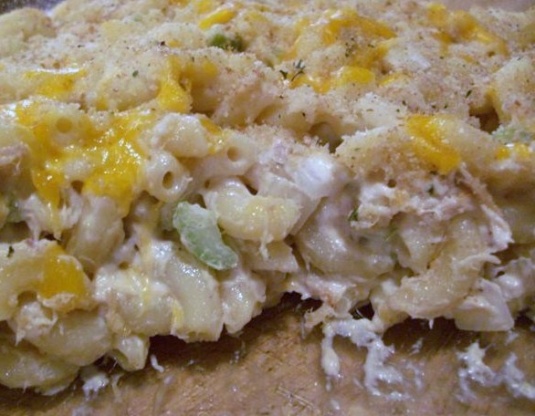 You will find no canned soup in this recipe. This is an adaption of my dad's recipe that I enhanced with sour cream and cheddar cheese.

This is one of the best tuna casseroles I've made! I left out the onion (personal pref) and used the optional red pepper and cheddar (on top). I was trying to use stuff from the pantry so I used some penne pasta that I had, plus a handful of noodles. This is so creamy and flavorful, and so quick to make from ingredients I always have on hand. Thanks for posting this great recipe! Made for the Best of 2008 event
Preheat the oven to 350F Place pasta in a large pot of boiling water and cook according to package directions.
Meanwhile, In a large bowl, mix all tuna ingredients well. set aside.
When pasta is cooked, drain well, then add the hot pasta to the mayo mixture and stir well.
Pour into an greased 9x13 casserole dish and lightly sprinkle the top with the 2 oz of cheddar cheese first, then bread crumbs. Bake 30-35 minutes till heated through.