Murray's Poor Man's Breakfast
loof751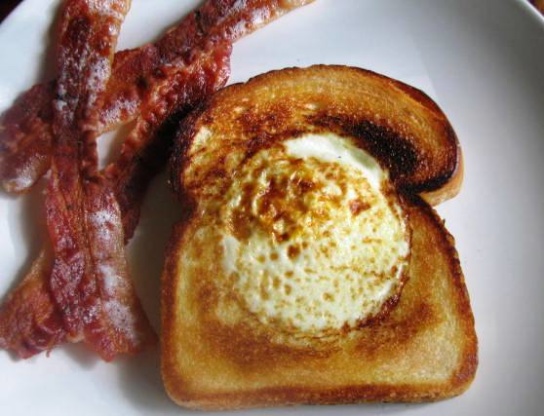 My Dad's famous for this one. Feedin' a family with 5 kids, when budgeting, this was a favorite, and being Irish, well, lets just say it was a nice change from potatoes! We make this with the yolk still runny, but if you like your eggs well done, crack the yolk just before turning them. Or scramble them first, and add some crumbled bacon, cheese, peppers and onions.... Endless possibilities!

2

tablespoons butter, divided (or to taste. We love lots.)

2

slices bread, with a hole made in the middle to fit an egg yolk

2

large eggs
salt, to taste
black pepper, to taste
In a large frying pan, melt half of butter over medium heat. Place the bread slices into pan, and crack an egg into the center hole.
Sprinkle with salt and pepper. Cook about 2-3 minutes depending on how well done you want your yolks.
Add remaining butter, and carefully flip over the bread with the egg center. Cook an additional 2-3 minutes.