2Bleu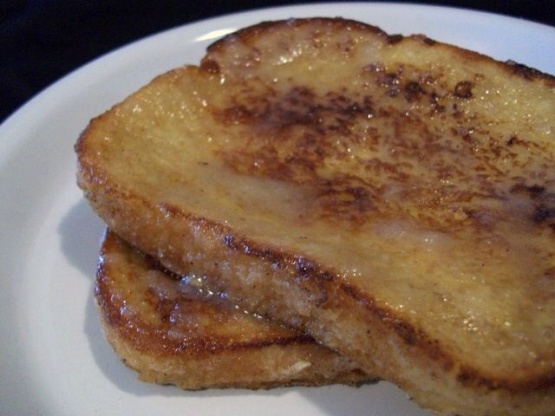 This is my (Bird's) favorite French toast recipe. Growing up with 4 siblings, my dad would make sugar-butter when there was no syrup in the house (hence 'Murray's', named after my dad). Some folks like it on pancakes, but for me, it's on French toast all the way! I even have a 'pattern' to how I eat it. I haven't tried it using Splenda yet, so I guess I need to soon, but then, this is not a 'diet-conscience' recipe. When we were real broke, and there was no money even for dog food, my dad would leave some egg mixture in the bowl, break up some bread in it, and the dog (and cats) ate too (we were always bringing home strays). :) My dad was the master of inginuity, making sure we all had full bellies!

Great french toast that brings back childhood memories! As kids at my grandma's house, we often had a piece of bread with butter and sugar for dessert, and we always ate clear Karo syrup on our french toast. This rich and gooey treat was a tasty trip down memory lane - thanks for posting the recipe!
SUGARBUTTER: Using the tines of a fork, mix butter and sugar in a small bowl. Do not beat (you should feel the granules of sugar in the butter). Set aside.
Beat eggs and milk in a bowl large enough to fit a slice of bread. Heat a small pat of butter in a large pan or griddle over medium heat.
When butter is melted in pan, dip 1 slice of bread into the egg mixture, flip over, then hold it over the bowl for a second or so to let excess egg drip off. Place into pan and sprinkle with a light dusting of cinnamon. Repeat with other slices (so as to fit on griddle or in pan, may need to do in batches).
Cook for 3-5 minutes until golden brown. Flip toast and cook remaining side to golden (sprinkle with more cinnamon if desired).
Place one toast each onto individual plates. Spread sugar-butter over one side (like buttering toast). Place another slice on top and repeat. Continue until you reach the desired stack amount and serve. I love to eat the crust off first, then dive into the center of soft french toast smothered in sugar-butter to divulge into at the end. A mouth-watering experience!