Mung Bean Cake With Coconut Milk
Kathy228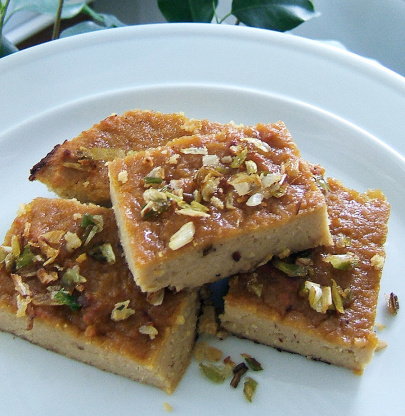 I found this recipe years ago, but don't remember where. I have made it a few times to accompany an Asian meal, and it has always been well-received. Don't let the shallots scare you off. They are quite sweet tasting when browned, like caramelized onions. Mung beans can be found in Asian markets, or Asian sections of larger supermarkets. This is a very dense, moist cake.

This is incredible! I wanted to make a low carb birthday cake for DH and danced around this recipe and several chickpea cake recipes - what if just this birthday cake would turn out an unedible mess? Finally I decided to make this one because your recipes never failed me yet and I knew DH would like the unusual shallot topping. I used the palm sugar - and you'd never guess what a hit this cake turned out to be! Had to make five outprints for guests who couldn't believe this was made from a legume! This sure will be a keeper! Thanks for posting this!!
In a medium pot, combine beans with 2 cups water and bring to a boil. Reduce heat to low and cook for 20 minutes, until beans are soft. Puree in blender.
In a bowl, beat coconut milk and sugar until frothy. Add eggs and beat well. Add bean puree and mix thoroughly. Put mixture in a saucepan and cook over medium heat until mixture begins to thicken.
Pre-heat oven to 350°F Grease an 8-inch square cake pan (use metal or unbreakable glass). Fold mixture into pan. Bake for 20 minutes. Raise heat to 450°F and bake another 25 to 30 minutes, until cake turns a deep amber.
Remove from oven and immediately immerse pan in 1/2 inch cold water for 10 minutes. Change water to ensure it stays cold and leave pan another 15 minutes.
In a small pan, sauté the shallots until light brown. Drain off the oil and spread the shallots over the top of the cake. Cut into 9 squares. Serve warm or cold. Bean cake will keep 1 week in refrigerator.