Debbwl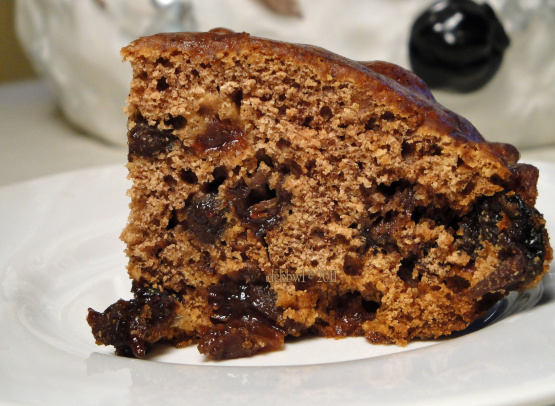 Mum made these every year. TRUE! HINT: The longer you leave it, the better it tastes too! She's had MANY requests for this recipe over the years, yes! Want to know why? If you try it, you won't have to guess! UPDATES!!!!! I made 4 of them yesterday and found I lowered to oven temperature to about 165 degrees Celsius; they each took about 55 minutes to cook! The cake is done when a skewer comes out clean, but you don't want to be opening and closing the oven door a lot. ALSO: While Mum's directions indicated GREASE WELL, it does not mean A LOT, just that the surface is covered with lard and then lightly floured. I was also wondering if a sugar icing was not on it but I can't remember and can no longer ask Mum as she has now passed away! :) Hope this helps someone!

This is a wonderfully different cake. I've never baked a cake that substitutes a simple syrup for fat and eggs, and I was intrigued. As other posters have mentioned, it is a dense cake, designed to hold a lot of fruit, but it's definitely not dry. The recipe calls for a full pound of raisins, but I substituted one cup of chopped dried cherries and one cup of dried blueberries, and that was plenty of fruit for us. Right out of the oven, the cake was good, but after sitting for three days, it was out of this world. I highly recommend this cake to anyone who isn't committed to light, fluffy cakes and is willing to give something a little different a whirl. You'll be pleasantly surprised.
Bring sugar, hot water, salt, cinnamon, allspice, Crisco, and raisins to a boil and SIMMER 5 minutes.
Meanwhile, COMBINE 2 teaspoons baking soda and 1 tablespoon HOT water.
ADD baking soda and HOT water combined to boiled mixture. Do not mix in, just pour in and it WILL sizzle/bubble.
MUST COOL mixture to room temperature.
When cool, mix in 3 cups flour.
Bake at 350 degrees Fahrenheit for about 55 minutes to an hour.
Cake is best left for 3 to 4 days before serving.
HINT: Looks nice if baked in a fluted Bundt* pan and can be wrapped in aluminum foil.
ENJOY!
NOTE: To prevent the cake from sticking, it is IMPORTANT that all the creases of the fluted sides are WELL greased with Crisco and floured before pouring in batter.