Ninna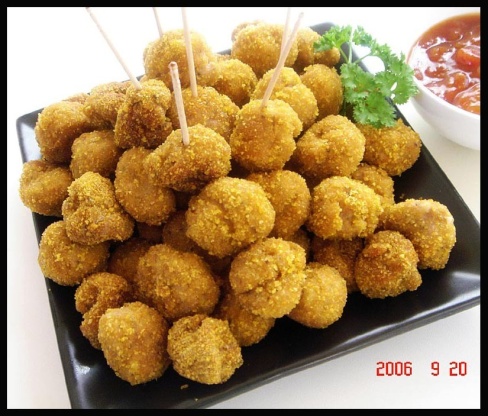 I buy sausage mince (ground sausage meat)for these although when posted it comes up as sausage but it definitely isn't a prepared sausage there is just the ground meat no casing when bought.I usually cook these in the oven. I buy Masterfoods mixed herbs (premixed)and they contain dried thyme, rosemary, marjoram, basil, oregano and sage.
500

g pork sausage (or beef sausage meat, ground)

1

tablespoon mixed herbs (or less not more)

1

small onion, chopped
1⁄2 cup fresh white breadcrumbs
salt & pepper

1

egg, beaten

1

cup dry breadcrumbs, approximately
Mix all but the last ingredient and roll into balls with wet hands (food processor good for mixing).
Roll in dry breadcrumbs and panfry in olive oil.
Or they can be baked in a hot oven 200degC (400degF) for about 10-15 minutes depending on the size.
Serve with a dipping sauce, thin tomato chutney, sweet chilli or whatever you prefer.