Mums Aubergine Aka Eggplant Casserole
loof751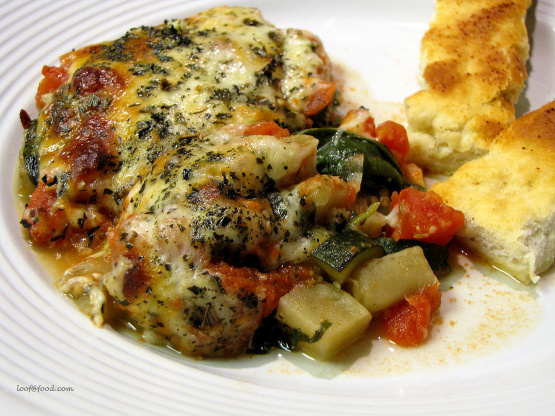 My partner loves Aubergine so having trawled through loads of recipes I decided to wing it with my own.

This is a great dish of veggie goodness! I especially liked the addition of the spinach; you didn't say how much so I just put a layer of leaves (fresh) over the tomato layer before topping with the cheese. Filling and delicious - thanks for sharing the recipe! Made for Spring Pick-A-Chef 2012
Fry the Aubergine, onion, courgette, mushrooms and garlic for 10minutes, then place in ovenproof dish.
Add the tomatoes, spinach, oregano, 1tsp of Basil and bouillon.
Place the mozerella slices on the top, sprinkle on 1 tsp of basil and the parmesan, cook in the oven on Gas Mark 6, 200 Celsius, 400Fahrenheit for 20 minutes or till the cheese is golden.