Prep 15 mins
Cook 12 mins

Just in time for halloween parties, quick easy and kids love them.
311.84 g package refrigerated breadstick dough (8 count)
8 hot dogs
Directions
Preheat oven to 375°F Using 1 dough strip for each, wrap hot dogs to look like mummies, leaving an opening for eyes.
Place on ungreased baking sheet.
Bake 12 to 15 minutes or until light golden brown.
Place dots of mustard and poppy seeds for eyes and enjoy!
Most Helpful
These are so fun to make! And really effective, they look great with their little mustard and seed eyes! It was easy to wrap them in the dough and they looked so cool. I can only imagine how great kids would think these were!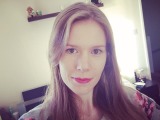 My kids loved them! The one year-old kept looking at the adults' (with the mustard eyes) and giggling :) What a great easy Halloween treat!

These are so easy and fun! They've become a standard for a quick/fun meal around here!