Multiseeded Multigrain Bread or Rolls
Diana 2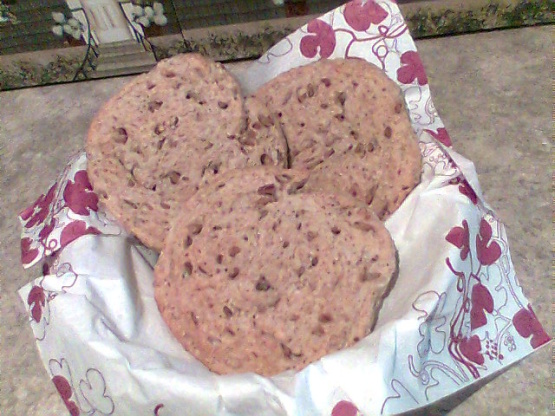 I love 'nutty' type breads. These are hearty, tasty, and definitely good for you. I got a little lazy when making these and decided to cut the dough into slices instead of forming rolls, and ended up with bread 'discs'. These turned out very well. Easily sliced in two, or just slather butter on top.....a little honey also goes really well. These also freeze extremely well. This is adapted from a Robin Hood recipe, which I've noted further down.

Great bread and buns. I made one loaf and 8 buns. Really good. I did add 2 T. gluten and 1/2 c. 7 grain cereal to replace some of the WW flour. They did take along time to raise but well worth the time.
Put bulgur in a large bowl and pour warm water over top. Let stand for 15 minutes to soften.
Sprinkle yeast on top and let stand another 15 minutes until the yeast is foamy, then stir.
To the yeast mixture, add honey, oil, pecans, sunflower seeds, sesame and poppy seeds, salt, and 1-1/2 cups flour. Beat on low speed of an electric mixer. Add remaining flour slowly. (my mixer isn't strong enough for this, so I do it while kneading).
Transfer the dough to a lightly floured surface, and knead the dough for about 10 minutes until the dough is smooth and springs back.
Place in a greased bowl, turning to coat, and cover with parchment paper and a tea towel. Put the bowl in a warm, draft free place to rise for 2 hours. I warm up the oven for a few minutes and do my rising in there.
Punch the dough down. You can have either 2 loaves, baked in 8-1/2 x 4 loaf pans which have been lightly greased, or 16 rolls. For the bread 'rounds' as show in the photo: form the dough into a cylinder, and cut into 1" slices. After you have divided your dough, loosely cover with parchment paper and let rise again for a further 45 minutes. Brush the tops with the beaten egg and sprinkle with sesame seeds.
Bake at 375*. Bread will take about 35 - 40 minutes, rolls and rounds about 20.
NOTE: This is an adapted version of Robin Hoods 'Multiseed Bread'. The original called for walnuts, a half cup each of sunflower and pumpkin seeds, and whole wheat flour.