Multigrain Sunflower Sourdough Bread
Katzen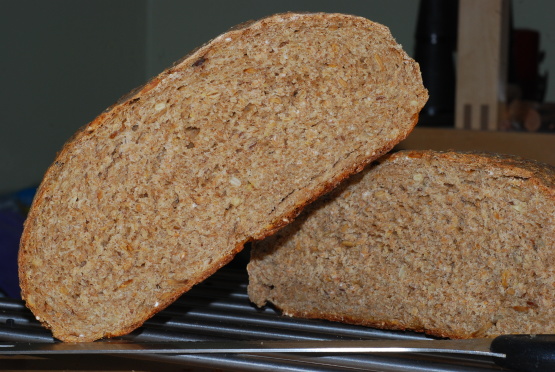 Inspired by Multigrain Loaf (By the Canadian Living Test Kitchen), which I really loved, but wanted to make as sourdough. I loved the result, so I'm posting it here hoping someone else loves it as much as me! I used 2 cups of 7 grain multigrain bread flour that I found at the St. Lawrence Market in Toronto, and 2 1/2 cups of Robin Hood Best for Bread Multigrain flour (which is really white, whole wheat, cracked wheat, and ground flax.) I used 1847 Oregon Trail Sourdough which I had just gotten two days prior, but any sourdough would do! The flour can be a combination of multigrain and whole wheat or white flour, to your taste preference. If you're so inspired, top this loaf with 7 grain cereal, oats, bran. Spray the loaf with Pam or water and then sprinkle with the topping before baking.
Starter: In large bowl, combine water, sugar, starter, flour, stirring until mixture is consistency of thick pancake batter, about 2 minutes. Cover with plastic wrap; let stand in warm place until bubbly and puffy, and yeasty/sour aroma develops, 8 to 12 hours.
Stir in 4 cups of the flour, warm water, sunflower seeds, honey and salt, using a stand mixer or your hands, to make soft, somewhat sticky dough. Add the remaining 1/2 cup flour if the dough is too sticky.
Turn out into oiled bowl; let rest for 30 minutes. Fold dough (like folding a letter), turn 90 degrees, fold again, repeat twice. Return to bowl, cover with plastic wrap and let rest 30 minutes more; repeat foldings. Form into loaf - round or loaf shaped, cover, and let rise in warm place until doubled in bulk, 2 to 2 1-1/2 hours. You can place it in a greased loaf pan or cookie sheet, in a brotform -- whatever. I highly recommend using a brotform and a baking stone, or a clay baker, but it works well with a simple loaf pan.
Preheat oven to 375. If using a stone, place it in while preheating, for around 20 minutes. If using a clay baker, follow the usual process.
If using topping, spray with Pam or water, and sprinkle it on top. Slash top. Bake in centre of 375°F (190°C) oven until instant-read thermometer registers 215°F (102°C) and/or loaf is golden and sounds hollow when tapped on bottom, 50 minutes. Transfer to rack; let cool.