Hey Jude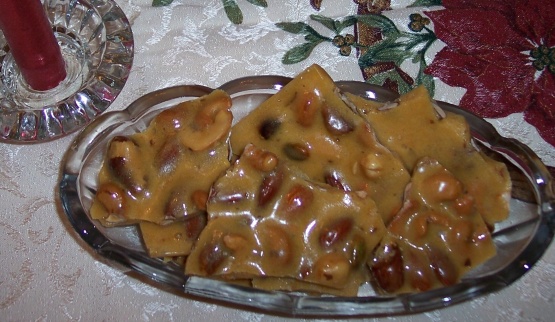 What a great gourmet gift to give---Yummy nuts and caramel as sweet as candy, Tip: the caramel gets very hot, so be careful when stirring. Cook time does not include cooling time.

Fabulous brittle! I made this as written and it turned out great...good directions. Make sure you wear oven mitts in steps 3-5, it's hot stuff! I'll have to make another, or several, batches before Christmas, this one's almost gone! Thanks for the wonderful recipe Barb :)
Generously butter a cookie sheet.
In a large saucepan over high heat, cook sugar, water, and corn syrup until mixture reaches 280 degrees on a candy thermometer.
Slowly add nuts and cook, stirring, until temperature reaches 300 degrees; turn off heat.
Carefully stir in butter and vanilla until blended; add baking soda and stir vigorously but cautiously; pour mixture onto prepared cookie sheet and spread as thinly as possible with a wooden spoon.
Cool completely; Break cooled candy into pieces; store in airtight container.