LiLiVi09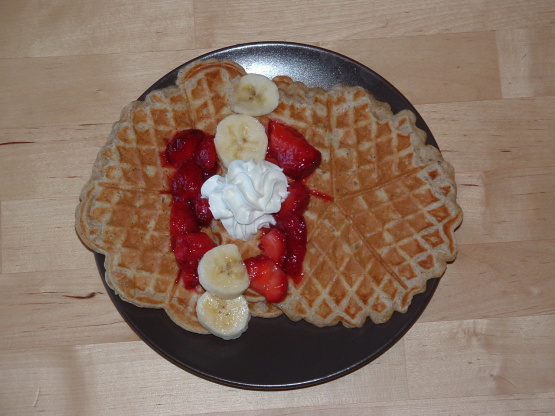 My family loves these waffles! I make my own buttermilk by adding a tablespoon of lemon juice or vinegar to every cup of milk. I like that I can add some healthier ingredients to the batter. It makes me feel better even though my kids pour syrup or something full of sugar on top!
Mix buttermilk and oats in a bowl; let stand for 15 minutes.
Whisk the flours, wheat germ, baking powder, baking soda, salt, and cinnamon in a large bowl.
Stir eggs, sugar, oil, and vanilla into the oat mixture.
Add the wet ingredients to the dry ingredients; mix with a rubber spatula just until moistened.
Coat a waffle iron with cooking spray and preheat.
Spoon in enough batter to cover 3/4 of the surface (about 2/3 cup for an 8 x 8 inch waffle iron).
Cook until waffles are crisp and golden brown, 4-5 minutes.
Repeat with remaining batter.
For pancakes-coat a large nonstick skillet with cooking spray; heat over medium heat.
Using about 1/4 cup batter for each pancake, cook until the bottoms are golden and small bubbles start to form on the tops, about 3 minutes.
Flip and cook until pancakes are browned and cooked through, 1-2 minutes.