Multi-Grain Hot Cereal (Slow-Cooker)
Kathy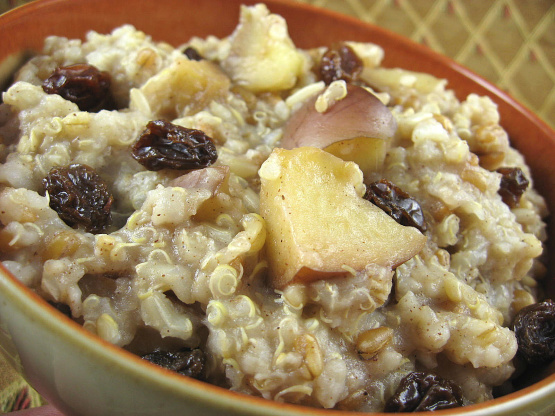 Made with steel cut oats, quinoa, wheat berries, and brown rice. Adapted from a recipe from the Complete Whole Grains Cookbook by Judith Finlayson. I love it because it is super healthy, super easy, and reheats perfectly.
Nice to wake up to the smell of cinnamon and vanilla. Very easy to make. My crockpot only has an 8 or 10-hour setting, so the cereal was more creamy than I prefer but my husband topped it with brown sugar and added milk and loved it. Did not have wheat berries or steel-cut oats, so added barley and Freekah instead.
dump everything into a lightly greased, large crockpot.
Cook on low overnight (about 6 hours was enough for me); or on high for 4 hours.
The original recipe suggests adding additional dried fruits, like raisins or cranberries in the last hour before serving. I topped mine with some maple syrup.
*I used a brown, long-grain basmati rice, but I'm sure any length rice would work fine. Also, I didn't have any apples, but I had some dehydrated apple-chips which I crushed and tossed in -- they worked great.