tasb395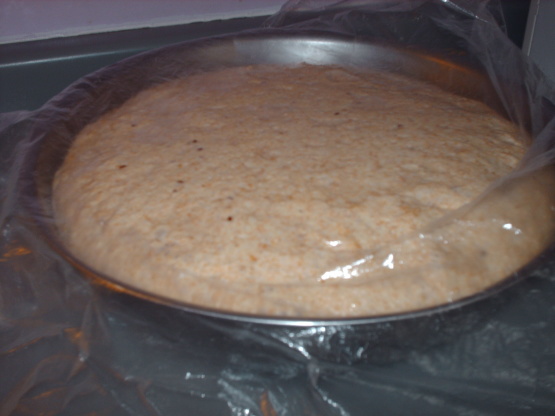 After searching everywhere for a easy Multi-Grain Bread recipe, that didn't have a ton of ingredients or too many steps I finally decided to make my own. I might try topping this with rolled oats or sunflower seeds some time. I took a whole wheat bread machine recipe I knew worked well and added cereal mix soaked in water and added more yeast and more gluten flour. The directions are for a KitchenAid Stand Mixer. Can be made Dairy Free.

I'm so pleased to be the first to review this awesome bread! I made a few changes - I wasn't sure I would like it so I didn't want to make the full 4-5 loaves, so I cut the recipe down to 1/4 for just one loaf. I used butter instead of shortening because I just believe shortening's horribly bad for you. And I had no gluten flour so I used half whole wheat flour and half regular all purpose. I also used the breadmaker to mix the dough - liquids first, then soaked cereal, then sugar, flours, salt and yeast. When the dough cycle was done I removed, shaped into a loaf, let rise 30 minutes, then baked as directed. This is a lovely, light, airy whole grain/wheat bread and it is really yummy! Next time I will use more whole wheat flour - I only used half wheat this time because I didn't want it to be too dense, but that doesn't seem like it will be a concern. Thanks for posting!
Mix together cereal and boiling water. Cover and set aside for 45 minutes. Add shortening and stir until shortening is melted.
Add cereal mix to mixing bowl, add flour, gluten flour, salt, brown sugar and yeast.
Add milk to measuring cup and add hot water.
Add milk mixture to flour mixture, turn mixer on to stir until most of the flour is incorporated. Turn to speed 2 and knead, adding more water to make a slightly sticky dough. Knead at least 2 minutes.
Turn dough into a large oil-greased bowl and cover with plastic. Let rise for about 1 hour or until double in size, maybe longer.
Punch down. Grease 4-5 loaf pans (8x4") with shortening, set aside.
Weight dough and divide by 4 and 5 so see which on is closer to 500 grams. Scale dough to even amounts. Shape into loaves and place into greased pans. Cover with plastic again and let rise for 1 hour or until double. The dough should rise to the top of the pan.
Bake at 400 F for 15 minutes. Bread is done when it is golden and the bottom sounds hollow when tapped.
Note: If you forget to add the shortening to the cereal mix, just melt it in the microwave and add after the milk.