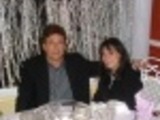 Sit back on the sofa, crank up the Christmas carol CDs, and enjoy a mug of this hot mulled wine.
Directions
Combine all ingredients in heavy large saucepan. Cover and cook over low heat for 1 hour to blend flavors (do not boil). Ladle hot wine into mugs.
Reviews
Most Helpful
I love mulled wine and this simple recipe does not disappoint. It was wonderful, hot, sweet, tart and fragrant. Thank you so much for posting this quick and easy to make recipe, which I will enjoy often. As a matter of fact, I'm enjoying a mug right now. Made for Sweet December Game 2014.