Mulled Cider With Winter Spices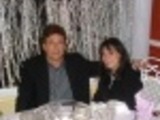 Here's a classic that's guaranteed to warm you up on a chilly winter day. Pass the brandy separately for those who want it. Garnish each drink with a cinnnamon stick and enjoy!
Directions
Mix first 10 ingredients in large saucepan. Bring to boil. Reduce heat to medium-low and simmer mixture 30 minutes to blend flavors. Strain mulled cider into mugs. Serve cider, passing applejack brandy separately, if desired.
Reviews
Most Helpful
This was really good!! I scaled it down to two drinks as it was just for me and it really warmed up a cold day.

Now this is what warm and cozy are all about. I halved the recipe for just DH and I and we each used a generous splash of the Applejack. Really nice cider recipe!

Yummy, Wow! Was this mulled cider ever good. It was very chilly here this morning. This lovely warm drink was just perfect. I loved all the spices and fruit blends in this warming drink. Thanks so much for sharing a cider that I will make often this winter.