Mulate's Homemade Bread Pudding With Butter Rum Sauce
Jackie 6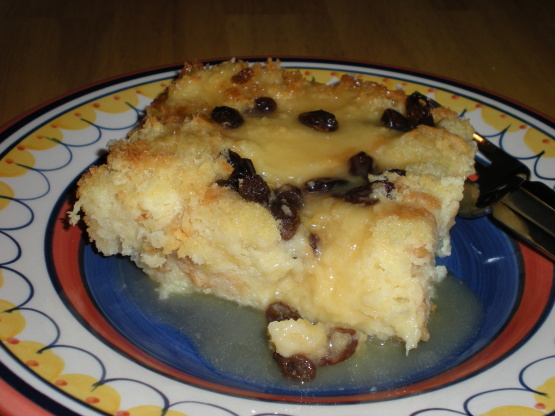 Recipe adapted from Alton Brown's cookbook "Feasting on Asphalt". This is an unusual bread pudding in that the texture is smooth, and dense with no evidence of the bread at all, almost like a tres leches cake because they make it from left over hamburger buns, which they soak in eggs and cream until the buns lose all form and shape. With hard sauce, the pudding is amazing.Mulate's is a restaurant in New Orleans.

Top Review by Connie
My husband and I visited New Orleans for the first time in November. Even though we had not eaten at Mulate's while we were there, I found this recipe and wanted to make it for Christmas brunch. It was very easy to throw together in the morning, about an hour or two prior to baking. It took a little longer to cook than I thought it would (I was using my microwave/convection oven on the convection bake setting, and I had kept it covered in foil until 10 minutes before it should have been done which may have slowed the cooking). Made the rum sauce, which I served in a gravy bowl. It was loved by all the guests.
Preheat the oven to 350º. Grease a 9 x 13-inch pan and set aside.
In a large mixing bowl, whisk the eggs. Add the milk, half-and-half, sugar,.
and vanilla, and whisk well to combine.
Break the hamburger buns into pieces and place in the prepared pan. Sprinkle the raisins evenly over the buns and pour the liquid mixture over. Make sure that all of the bread is thoroughly soaked in the liquid.
Bake in the middle rack of the oven for 45 minutes. Let cool for 15 minutes before serving. If you prefer a firmer texture, chill for about 2 hours, then reheat for serving.
Serve with butter rum sauce.
BUTTER RUM SAUCE.
4 Tblsp (1/2 stick) unsalted butter.
1/4 cup sugar.
1/2 cup heavy cream.
1/2 cup rum (although you can use any rum you want, AB relies on a dark spiced rum [Capt. Morgan] for this).
Place the butter in a 1-quart saucepan and set over medium heat. Once the butter has melted, add the sugar and whisk to combine. Cook for 3 minutes.
Add the cream and rum and cook for 5 minutes, or until slightly thickened.
Serve warm over the bread pudding.