Mujadrah - Lentils and Rice
Pismo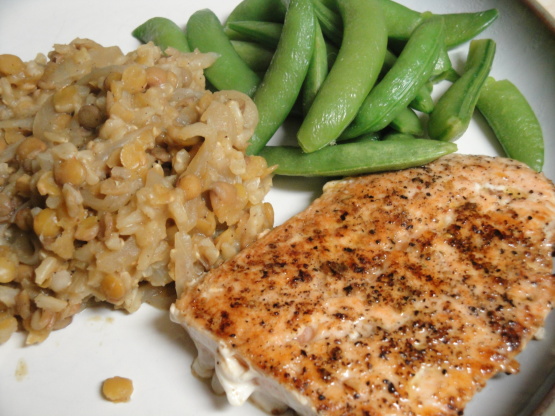 This is my family's take on a wonderful comfort food.

Yum! Came out great! I used a brown rice medley from Trader Joe's. I used approx. 1 tsp cayenne pepper, 2 tsp cumin and about 2 tablespoons lemon juice (give or take a half tbsp - I test tasted the broth as I went along). I did have to add another cup of water to it about 30 minutes into cooking. I also let it cook longer than stated, probably about an hour altogether to be sure all the liquid was soaked up. It was flavorful with a nice kick to it at the end of each bite!
Sauté lentils briefly.
Cover with 3 cups water/stock.
Bring to a boil then reduce to a simmer for 10-15 minutes while sautéing onions (and garlic if using cloves) till transparent or a little brown.
Add rice to onions and sauté for a moment.
Transfer onions and rice to lentils and add water to cover.
Add lemon juice, spices to taste, stir.
Bring to simmer, cover, let cook approximately 40--45 minutes (will take less time if using white rice) stirring occasionally.
Add more lemon juice, spices if desired.