ms.susan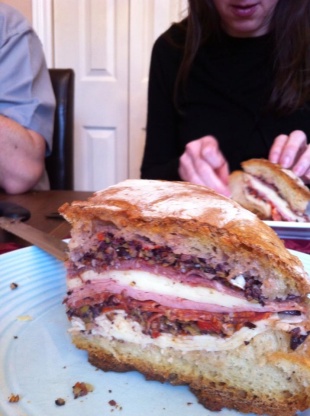 These are fantastic and a New Orleans tradition! They are great for picnic or to take to the beach. They travel very well and the combined flavors are delicious! Cook time is chill time.

This was excellent! Even my 9 year old liked it, minus the olive spread. I also made a few changes. I softened the garlic with some olive oil in a pan and let it cool before adding it to the olive mixture. Not big on raw garlic. I also subbed a good quality Black Forest Ham for the Mortadella. I didn't have any parsley. But these were just personal preference changes. Used store bought French bread. This would be great on a hot summer day. Will definitely be making this again. Thanks for a great recipe Little Bee
Take one loaf fresh Italian bread (one big round for a traditional Muffaletta or individual sub loaves will do fine for smaller sandwiches).
Cut the loaf (or loaves) in half, and scoop out a little of the inside to make some room.
Make the olive salad by combining the olives and roasted pepper, garlic and vinegar.
Drizzle some of the olive oil and juice from the olive salad on each side of the open loaf-- use plenty.
On the bottom, place some salami, olive salad, provolone, mild cheese, and mortadella.
Top with the other half loaf.
Wrap tightly with plastic wrap and set a heavy skillet on top of loaf or individual loaves.
Chill for 1 hour.
This helps compress for easier slicing and absorption of flavors.
Slice into wedges (or eat the individual loaves).
*The roasted red peppers are Italian-style, available at many Italian delis or in the ethnic aisle in the grocery store.