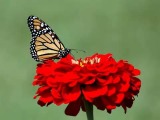 A salad inspired by NOLA's French Quarter. Recipe is from the Deen Bros.
Make and share this Muffuletta Salad recipe from Food.com.
Ingredients
Nutrition
For the croutons

1⁄4 lb day-old French bread, cut into 1-inch cubes

2

tablespoons olive oil

1

large pinch salt

For the dressing

3

tablespoons red wine vinegar

2

tablespoons pepperoncini peppers, minced

2

small garlic cloves, minced
1⁄2 teaspoon salt
1⁄2 teaspoon fresh ground black pepper

6

tablespoons olive oil
1⁄4 cup kalamata olive, pitted and sliced
1⁄4 cup pimento-sliced olive, sliced

For the salad

2

heads romaine lettuce, cored and chopped
1⁄2 lb fresh mozzarella cheese, cubed (or bocconcini 1 1/2 cups)
1⁄4 lb mortadella, thinly sliced and cut into 1-inch pieces (1 cup)
1⁄4 lb ham, thinly sliced, cut into 1-inch pieces (deli ham - 1 cup)
1⁄4 lb genoa salami, thinly sliced, cut into 1-inch pieces (1 cup)

3

ounces provolone cheese, sliced, cut into 1-inch pieces (2/3 cup)
Directions
To make the croutons, preheat the oven to 300 degrees F. Toss the bread cubes with the olive oil and salt. spread the bread cubes in a single layer on a large baking sheet. Toast, tossing occasionally until golden, about 15 minutes.
To make the dressing, whisk together the vinegar, pickled peppers, garlic, salt and black pepper in a medium bowl. Whisk in the olive oil, kalamata olives and pimento olives.
To make the salad, toss romaine with the mozzarella or bocconcini, mortadella, ham, salami, provolone and croutons. Pour the dressing over the salad and toss to combine well.
Serve immediately.
Reviews
Most Helpful
Five star dressing! Easy to make entree salad. Next time I will use half the amount of meat.
Wow! This isn't a salad, it's a meal! Do delicious! I made exactly as posted, with all romaine and used all the meats and cheeses as posted. As a previous reviewer stated, I will make sure I double this dressing, because I could just eat it with a spoon!!! Salty, but soooo delicious. I had this tonight when the heat index was 115....I'll try and make it home tomorrow at lunch and throw another salad together so I can post a pic. This recipe certainly deserves one. It is delicious! Made for PRMR tag game.

Wow! What a great idea turning one of my fav sandwiches into a nice (somewhat light) salad (not so much bread). Brilliant idea! I made this for me and hubbys lunch yesterday, and it was fabulous. (I will post a picture as soon as I can get in uploaded from hubby's cellphone). I already had homemade croutons on hand, so it made assembly even quicker. I halved the recipe for just the 2 of us. Next time I will double the dressing to keep on hand in a jar in the fridge! I also used a pre-packged bag of mixed salad greens. We both enjoyed it very much. Thank you for posting. (Made for PRMR)