SharonChen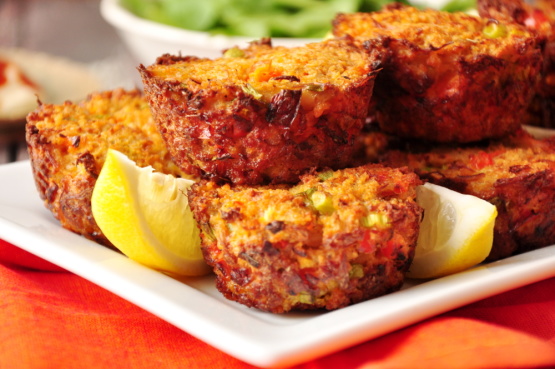 This recipe has taken the frying and fuss out of crab cakes by shaping and baking them in muffin tins. For the best taste, look for pasteurized crabmeat in the refrigerator case at your market's fish counter, a better choice than canned varieties. Make it a meal: try these crabcakes with some tangy tarter sauce and coleslaw. Note:To make bread crumbs tear crust from bread then tear into pieces & process in a food processer into coarse crumbs, one slice makes about 1/3 cup crumbs. The recipe is courtesy Eatingwell.com.

Made as directed but switched celerty salt with old bay seasoning. Next time I will reduce to breadcrumbs so 1 to 1.5 cups as I felt there was a bit too much filler.
Preheat oven to 450 degrees; generously coat a 12-cup nonstick muffin pan with cooking spray.
Mix crabmeat, breadcrumbs, bell pepper, scallions, mayonnaise, eggs, egg white, hot sauce, celery salt, and pepper in a bowl until well combined.
Divide mixture evenly among the 12 muffin cups.
Bake until crispy and cooked through, 20 to 25 minutes, serve with lemon wedges.