Muesli Cookies (No Flour, Just Seeds)
Nif_H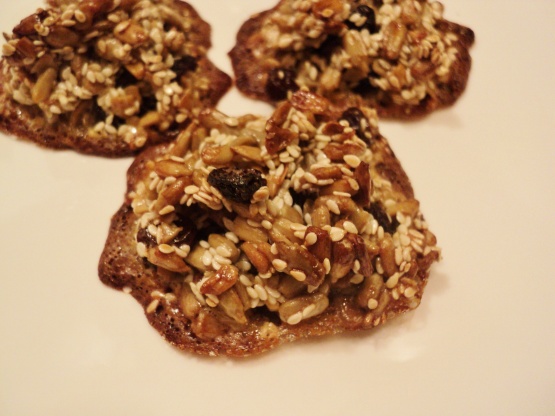 These are very tasty and healthy cookies, which can be made in no time. They have great potential for variation since you can use whatever mix of seeds and nuts you prefer and choose a sweetener (honey, agave nectar) of your liking. I think they are a great healthy snack!

Easy, wonderful snack! I used dried cranberries, pistachios, almonds, cashews, and pumpkin seeds, and I can certainly see the endless variations this allows for! Like a previous reviewer, I used my Silpat and found them easy to remove. Thanks for sharing! Veg*n Swap 24
1

egg

2

tablespoons sugar

2

tablespoons honey (I used a creamy one)

200

g mixed seeds, and kernels (I used sesame, sunflower and pumpkin seeds)

50

g raisins (optional, but I would include them)
Preheat oven to 180°C/350°F.
Mix all ingredients together in a bowl and drop by teaspoons on a paper-lined baking sheet leaving some space between the cookies.
Bake for 12-15 minutes until nicely browned.
Let cool completely on baking sheet. If you want to store them keep them in an airtight container in a dry place.
Enjoy!