Muesli Bars (Gluten, Dairy and Egg-Free)
Jubes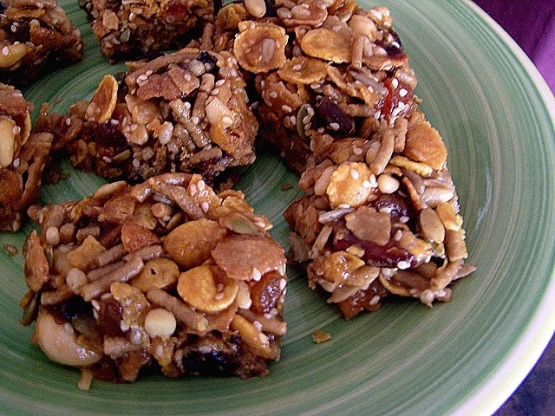 These bars are easy to make and are great for breakie on the run or for school lunches. They can be made vegan by substituting the honey with another sweet syrup, such as rice or corn syrup, or even golden syrup. Use a mix of any cereals such as corn flakes, rice bubbles/pops, quinoa flakes, poha, muesli, etc. It's also a great way to empty out all those scraps of cereal in the bottom of the box that the kids won't eat. The trick to getting these to hold together well is to press the mixture into the pan very, very firmly.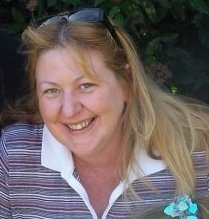 Top Review by Jubes
*Reviewed for PAC Fall '07* These Muesli Bars had a great flavour and were super easy to make. I used GF muesli and cornflakes. I added chopped dates as my muesli already had sultanas and apricots. The bars had a great flavour and made a large quantity. The only trouble I had was that they weren't great at holding together. I would suggest probably longer in my oven would have been the trick (maybe next time I'll give that a go). My daughters loved these muelsi bars.Photo also being posted*editted to add* October 08-I've made these bars again using different cereals and they did hold together much better. I suggest if you have sereal with large pieces in that you also crush them a little to
Turn oven on to 300°F (150°C).
Line a 26 x 36 cm x 5 cm (11 x 14 x 2") pan with baking paper (silicon paper).
Mix together all the dry ingredients – cereal, seeds, nuts, fruit etc.
In a saucepan melt the peanut butter, oil, honey and corn syrup together. When the mixture starts to boil, reduce heat and boil gently for 3 minutes being careful not to burn.
Add to dry ingredients and mix well.
Press very, very firmly into prepared pan.
Bake at 300°F (150°C) for 15 minutes.
Cool completely in fridge. When cool cut into bars.
Wrap bars individually in glad wrap or sandwich bags. Store in fridge.