Muenster & Cheddar Cheese Pie
Parsley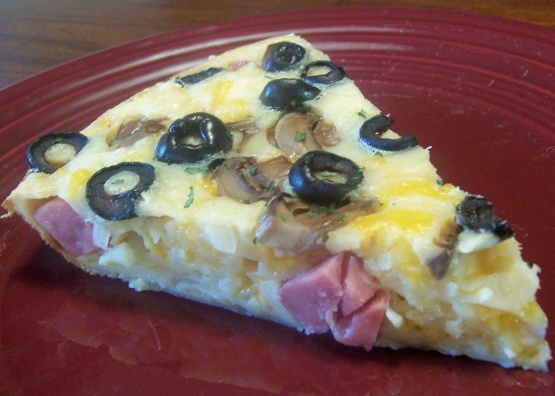 Ham and cheese pie topped with olives or mushrooms. Great appetizer or brunch.

This is a lovely dish! Nice for breakfast or lunch. I added some salt and topped it with mushrooms. I was very pleased with the delicious flavor and how easy this was to make. I'll make this again. Thank you!
Preheat oven to 400°F.
Grease a 9-inch pie pan or cake pan.
In medium bowl, combine eggs, milk, flour, and pepper; beat until smooth.
Add all but final ingredient; stir.
Pour into greased pan.
Top with olives or mushrooms if desired.
Bake for 30-35 minutes (until golden brown and slightly puffy).