VickyJ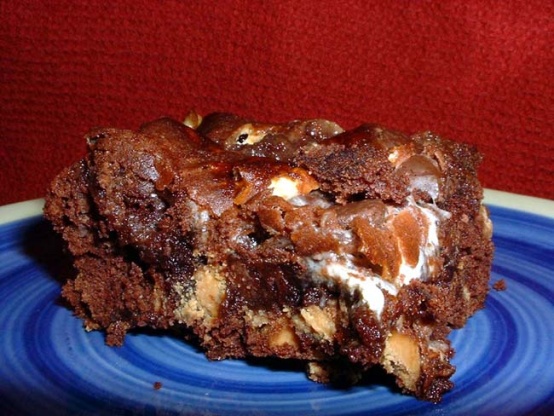 I make these occasionally when I really want a chocolate fix. A few people on the site have requested that I post this.

Loved this, for those of you having problems, try freezing the marshmallows first and taking them out of freezer and dump them directly in.( no counter time so they can defrost.
Preheat oven to 350 degrees F. Grease a 9x13 inch pan.
In a large saucepan over medium heat, melt 1 cup of butter. Remove from heat and stir in cocoa until smooth, then transfer to large mixing bowl.
Mix in the white sugar, eggs and 2 teaspoons vanilla. Mix in the flour, then fold in chocolate/peanut butter chips and marshmallows. Spread evenly into the prepared pan.
Bake for 25 to 30 minutes in the preheated oven, until brownies start to pull away from the sides of the pan. Let cool in pan.