Mud Cookies - Aka - Chocolate No Bake Cookies
sprue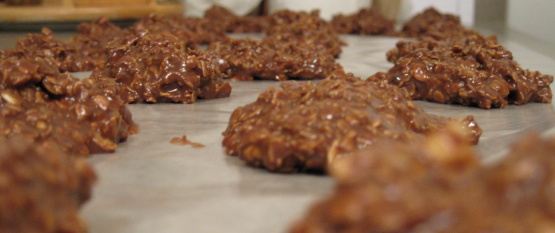 This is a childhood favorite my mother use to make.

I love these...Mom has been making these as long as I can remember back I usually approximate the ingredients, which sometimes turns out badly so I used yours for consistency, perfect. For Chef #1091891: You probably didn't get it to the right boiling point, if you don't boil it long enough your cookies won't set, if you boil them too long they'll be too dry or crumbly. Also, you need to use quick oats because OF oats don't have enough time in the liquid to get soft so the texture will be wrong...the sugar amount shouldn't be cut because it is important to helping your cookie hold together and set right...if you're avoiding too much sugar try to sub some splenda in place of the sugar but not all splenda. These are definitely for those with a sweet tooth and who like chocolate, so sorry about the "too sweet" there's really no way around it, these are wonderfully rich and perfect with milk.
Combine butter, cocoa, sugar, and milk in a large saucepan.
Bring to a full boil, reduce heat and simmer for one minute stirring constantly.
Add vanilla and peanut butter mixing well.
Stir in oats.
Quickly drop onto waxed paper by the spoonful or desired amount.
Let cool and enjoy.
Do not under or over cook ingredients in saucepan. Once oats are stirred in drop onto wax paper immediately. I do not suggest in double batching this particular recipe.