Msemmen - Moroccan Crepes
DZ_USA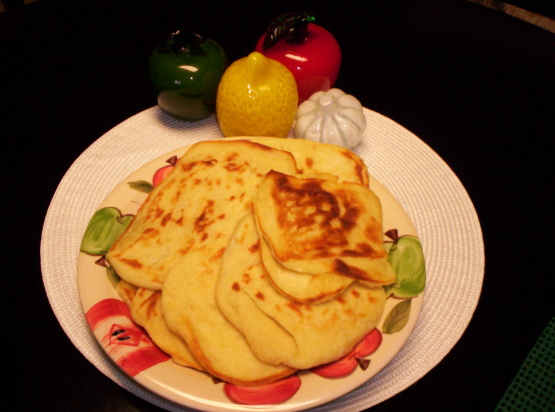 How to make Msemmen, a delicious Moroccan crepe that is served with honey and Moroccan mint tea. video at: http://www.cookingwithalia.com

salam! Thank you so much for posting this recipe! My mother in law makes the best msemmen ever. I am happy to say that your instructions are very clear! My dough turned out great and husband liked how it turned out! Its hard to beat a mother with a lifetime of experience or making these. but I must say I did a pretty good job for my first batch! Shukran and salam!
Steps for making the dough:.
Mix all the dry ingredients together (flour, semolina, salt, sugar, and yeast).
Slowly add water and work the dough until you are able to create a ball with the dough.
If you are kneading the dough by hand, use energetic and quick strokes. Knead for 20 minutes while adding water until you get an elastic dough.
You can use a kneading machine to speed up the process. Put the dough ball in the machine and automatically knead for the next 10 minutes while adding water.
Make small balls with the dough (the size of golf balls) and let the dough rest for 20 minutes.
Note: the amount of water needed depends on the quality of absorption of the flour you are using. the goal is to get at the end an elastic and malleable dough. if your dough is too sticky add some flour; if it is too hard add some water and continue kneading it.
Steps for folding the Msemmen:.
Mix the melted butter with the oil.
Spread some of the oil/butter mixture on a flat surface. Take one dough ball and flatten it with your hands. Gently keep stretching the dough until you get a thin circle of dough. Fold the circle into a square as shown in the video.
Steps for cooking the Msemmen:.
Gently spread the dough square with your fingertips until you get a thin dough square.
On low heat, cook the Msemmen 5-10 minutes in each side.
Note: the Msemmen is served hot with honey and Moroccan mint tea.