Ms. Gayle's Homemade Pimento and Cheese
CandyTX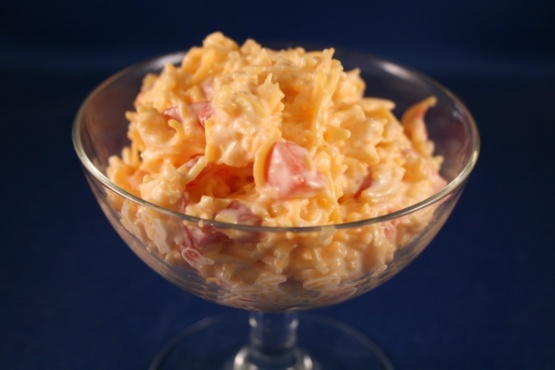 Ok, so this is the one hundred thousandth pimento cheese recipe on here! What can I say? This one is the best I have ever had! My friend, Suzy's mother's recipe. In the South you have to have this at every special occasion along with deviled eggs and fried chicken, sweet tea, and great friends!

I made this for my book club meeting. We read a book about a mouse, so, of course, we all brought cheese stuff :) I chose this recipe because it was the easiest, but also it's exactly how it was made when I was growing up in SC. :) The ladies liked it, so I'd say it was a hit!
In a medium bowl, place grated cheese.
Pour entire contents of pimento jar over cheese and toss lightly to mix.
Add mayonnaise and stir until cheese is well coated.
You might want to adjust the amount of mayo, depends on how dry your cheese is.
Serve as a spread in a sandwich or with crackers as an appetizer.