MsSally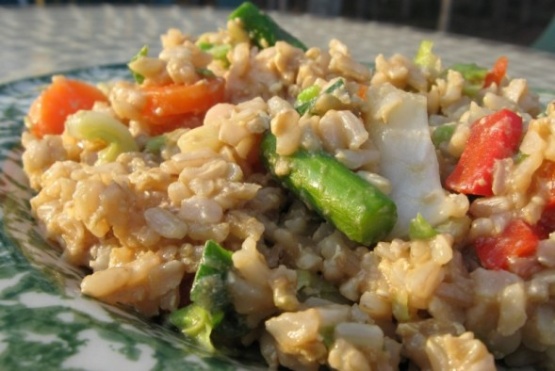 This came from a dear Japanese friend of mine who was also my daughter's piano teacher when we lived in Japan. A lot of times I will make this recipe with leftover meat. :) Do not let the oyster sauce scare you. :) It can be found in the Asian part of most grocery stores.

Having a Chinese mother, I was practically brought up eating fried rice...and it's the same for my children now,it's one of their favourite meals.
I was interested to see how the wine and oyster sauce affected the flavour, as it's not something that I (or my mother) have added before.
The oyster sauce did add some depth to the flavour, but I didn't think the wine did much (maybe sake would be better!) so next time I'll just pour it into a glass for me to drink!!
I used leftover roasted chicken, carrots, peas, beans and sweetcorn....all clean plates!
Thanks SweetsLady- Made for PRMR.
Heat oil in frying pan.
Add rice, green onion, and meat.
Cook over medium high heat for 1-2 minutes trying to coat the rice with the oil.
Add sauces and mix well.
Push rice to sides and scramble eggs in hole made in middle until done.
Combine eggs with rice. Add in vegetables, if desired.
Season with salt and pepper, if desired.
Serve and enjoy!