Diana 2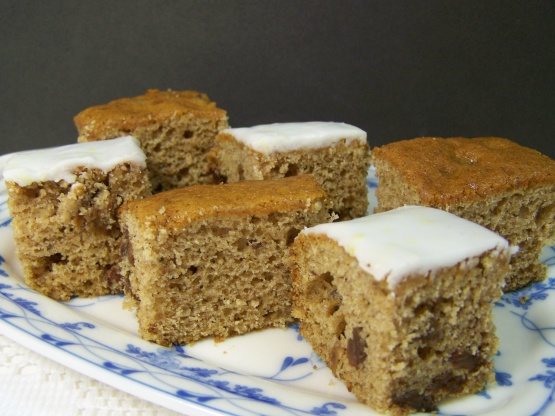 This is a depression-era bar cookie. My mother learned it from the wife of my father's first boss. It is a favorite of mine. The sweetness of the bar and the tartness of the icing balance one another just right. Don't substitute butter or margerine for the Crisco. It won't work. And I just put down a random amount of powered sugar in the recipe for the icing. Use more or less, as you want and depending on the size of your lemon, so it is easy to spread. My handwritten recipe specifies seedless raisins. Imagine: you used to be able to buy raisins with seeds.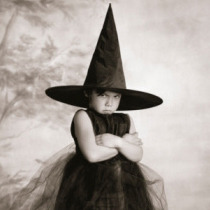 This turned out to be more 'cake like' than bar cookie. The cake was moist, flavourful, and not as sweet as I'd thought it might be. We definitely preferred it without icing. I did have a couple issues: There was no mention of greasing the pan, but did anyway. Not sure if it made a difference, but figured it couldn't hurt. After baking for the posted 20 minutes, it was still quite pale, and jiggly. I baked it for an additional 10 minutes. At this point it was nicely browned and puffed. Loved the smell with all those spices. As it cooled, you could see the center sinking, and when cut, it hadn't fully baked. (Maybe another 10 - 15 minutes, but I'd think it would be over brown at that point and possibly dry.) No big deal, as we ate the fully baked areas and enjoyed it with a cup of tea. Many thanks for sharing your recipe Alvina. I only wish it had worked out better for me. Made for Fall PAC 2011.
Stew the raisins in the water while getting out the other ingredients.
When the raisins are soft, turn off the heat and add the vegetable shortening.
Let it cool just a bit and add rest of the ingredients.
Beat until smooth.
Pour into a 9"x13" pan and bake 20 minutes at 375 degrees.
Frost when cool or warm, either way works. To make the icing:.
Grate the rind of the lemon.
Juice the lemon.
To these two ingredients, add enough confectioners (powdered) sugar to spread easily.