Mrs. Geraldine's Ground Beef Casserole
Pam-I-Am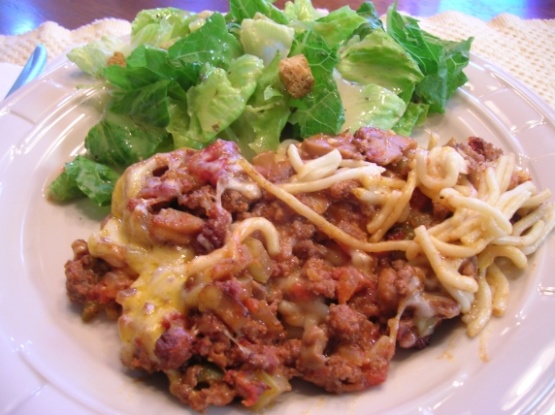 This recipe came from a local church fund raising cook book. Mrs. Geraldine is a good friend of the family. She reminds me so much of Mrs. Clause, that I can't help but smile every time I think of her. This recipe freezes well. Do not bake before freezing. Just put it together, freeze it, thaw it and cook.

What a great recipe! Our tweaks: 1T sugar instead of 2T, 3T worcestershire instead of 2T, and we added 1/2t of granulated garlic and some crushed red pepper. That Mrs. Geraldine is one fine neighbor!
Brown meat in large skillet or Dutch oven.
Add onions, pepper and celery and simmer for 15 minutes.
Add tomatoes and tomato sauce, mushrooms, brown sugar and Worcestershire sauce.
Add salt and pepper to taste.
Cook in skillet for 1 hour.
Place cooked pasta in bottom of large casserole dish.
Spoon mushroom soup over pasta.
Pour sauce over the soup and top with cheese.
Bake in 350°F oven for 30-45 minutes.
Can sizes do not have to be exact, just as long as they are within a close range, everything will work out.