Mrs. Field's Macadamia Nut Cookies
WiGal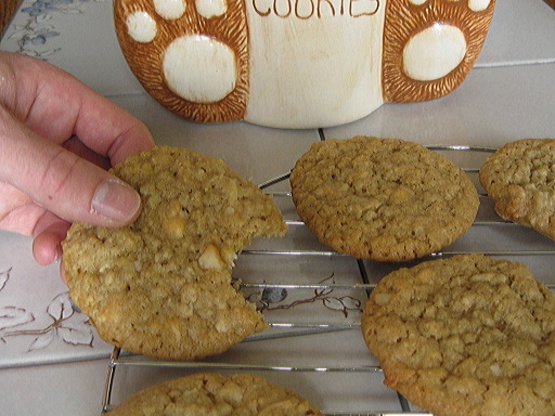 I found this in the newspaper.

These cookies are wonderful. If you find them to flat add about a half cup of flour and coconut and that should do it. My mother is a fantastic baker and she always adds a 1/2 cup flour to her cookie recipes. If never fails Mom is always right it makes the difference from a flat cookie to a better cookie.
Preheat oven to 375 degrees.
After measuring oats, place in blender and process until they turn to powder.
Also, place coconut in a blender and process until fine.
Cream together butter and sugars.
Add eggs and vanilla.
Mix together flour, salt, baking soda, baking powder, oatmeal and coconut.
Add to butter mixture and mix well.
Add nuts and white chocolate. Stir.
Make golf ball size cookies and place 2 inches apart on an ungreased cookie sheet. Bake 10 minutes.