Katzen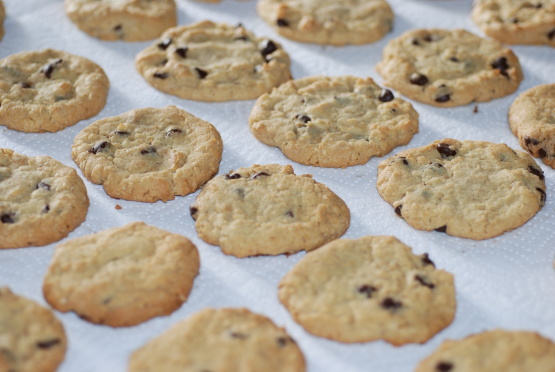 As far as I know this is an authentic Mrs. Field's cookie recipe. These cookies are some of the tastiest I've ever had. They are hard on the outside, but soft and delicious on the inside. It's our family' favorite chocolate chip cookie recipe! When you take the cookies out of the oven they will seem a little softer than an average batch of cookies, but not to worry, they firm up right away. I hope you enjoy them!!

I just made these cookies from a recipe I got from a neighbor while growing up. Was looking to see if it was in here cause knew it needed to be available to the masses. I didn't have the part about food processing the milk chocolate chips, but may try that next time. I love to mix it up & put a mix of different chips in the cookies cause they always turn out good! Glad this is here cause now I can send it to others.
Preheat oven to 375 degrees F.
Combine softened butter and both sugars in a mixing bowl. Whip together until light and fluffy. Add the eggs and vanilla. Mix until well combined.
In another bowl, combine the flour, salt, baking powder, and baking soda. Put oatmeal into a food processor to break down into a powder. Add the "oatmeal flour" to the rest of the dry ingredients.
Slowly add the flour mixture (half at a time) into the sugar mixture. Blend with an electric mixer until well combined. Put the milk chocolate chips into the food processor and chop into small pieces. Using the electric mixer, add them to the dough. Now stir in the semi-sweet chocolate chips with a spoon.
Drop golf ball sized balls of dough onto an ungreased cookie sheet. Bake for 10-12 minutes. Allow to cool on a wire rack for an additional 10 minutes. Enjoy!