Mrs. Field's Chocolate Chip Cookies - My Way
Pixie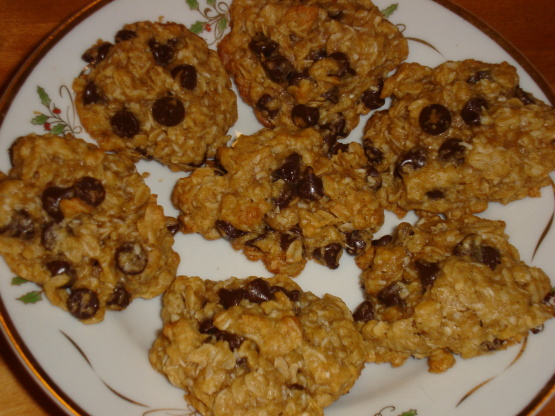 There are several versions of this wonderful recipe floating around. This is my particular take on it, posted here for safekeeping. I will give the "standard" ingredients first and will then give the alternate (healthier) ingredients that I personally use. I am guesstimating the number of cookies this yields. I am updating this recipe on 12/22/12 to make a gluten-free version that I tried out and liked. The two changes are using brown rice flour instead of regular flour and doubling the amount of egg (brown rice flour tends to produce a crumbly product but extra egg offsets this).
236.59

ml unsweetened butter, softened

473.18

ml sugar

2

large eggs, at room temperature

4.92

ml vanilla extract

473.18

ml flour

591.47

ml oatmeal (not instant)

2.46

ml salt (optional if using salted butter, or reduce amount of salt)

4.92

ml baking powder (a pinch more to make them softer)

4.92

ml baking soda

340.19

g semi-sweet chocolate chips

354.88

ml chopped nuts (any kind)
Preheat oven to 350°F.
In a larger mixing bowl, cream the butter, sugar, eggs and vanilla well.
Pulverize the oatmeal in a blender a little at a time.
Combine dry ingredients in a large bowl.
Combine the wet and dry ingredients.
Stir in the chocolate chips and nuts.
With your fingers, place golf-ball-sized dough portions, 2" inches apart on an ungreased cookie sheet.
Bake 8-9 minutes or until edges are light brown.
My "healthier" substitutions:.
For the 2 cups of flour, I use 1 1/2 cups whole wheat pastry or organic oat flour PLUS 1/2 cup soy flour.
For the sugar, I substitute fructose.